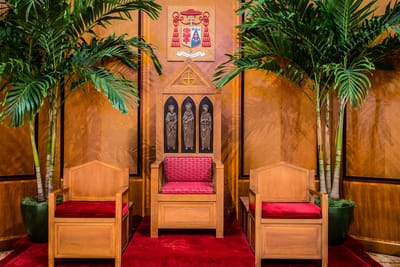 Sede vacante (Latin for 'the seat being vacant') is a term for the state of an episcopal see while without a bishop.
Vacant Dioceses:
Diocese of Gaylord (Michigan), Vacant March 25, 2020
Diocese of New Ulm (Minnesota) Vacant August 6, 2020
Diocese of Crookstown (Minnesota ) Vacant April 13, 2021
Dioceses with a Bishop-ElectDioceses with a Coadjutor Bishop
Diocese of Peoria (Illinois), Coadjutor Bishop Louis Tylka, (to succeed to the See of Peoria TBA)
Dioceses with an Auxiliary Bishop-elect:U.S. Superannuated Dioceses (note: date marks Bishop's 75th birthday)
Diocese of Wilmington (Delaware) (Bishop William F. Malooly, 76, 01/18/2019).
Diocese of Brooklyn (New York) (Bishop Nicholas A. DiMarzio, 76, 06/16/2019).
Archdiocese of Boston (Cardinal Sean O'Malley, O.F.M. Cap., 76, 06/29/2019).
Greek-Melkite Eparchy of Newton (Our Lady of the Annunciation in Boston) (Massachusetts) (Bishop Nicholas J. Samra, 76, 08/16/2019).
Diocese of St. Cloud (Minnesota) (Bishop Donald J. Kettler, 76, 11/26/2019).
Diocese of Colorado Springs (Colorado) (Bishop Michael J. Sheridan, 75, 03/04/2020).
Diocese of Camden (New Jersey) (Bishop Dennis J. Sullivan, 75, 03/17/2020).
Diocese of Covington (Kentucky) (Bishop Robert J. Foys, 75, 07/27/2020).
Syro-Malabar Eparchy of Saint Thomas the Apostle of Chicago (Illinois) (Bishop Jacob Angadiath, 75, 09/26/2020)
Diocese of Kalamazoo (Michigan) (Bishop Paul J. Bradley, 75, 10/18/2020).
Diocese of Winona-Rochester (Minnesota) (Bishop John M. Quinn, 75, 12/17/2020).
Diocese of Charleston (South Carolina) (Bishop Robert E. Guglielmone, 75, 12/30/2020).
Diocese of Saint Augustine (Florida) (Bishop Felipe de Jesus Estevez, 02/05/2021).
Diocese of Portland (Maine) (Bishop Robert P. Deeley, 06/18/2021).
U.S. Dioceses that will superannuate this year (note: date marks when Bishop will turn 75):
Ruthenian Eparchy of Holy Protection of Mary of Phoenix (Arizona) (Bishop John S. Pazak, C.SS.R., 08/13/2021).
Archdiocese of Louisville (Kentucky) (Archbishop Joseph. E. Kurtz, 08/18/2021).
Diocese of Rochester (New York) (Bishop Salvatore R. Matano, September 15, 2021).