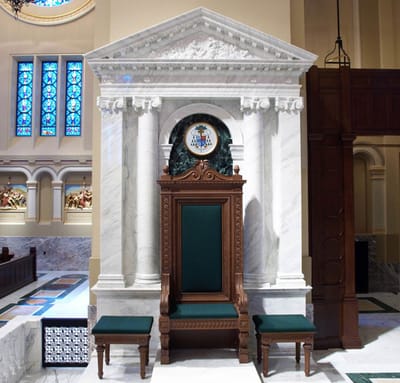 Sede vacante (Latin for 'the seat being vacant') is a term for the state of an episcopal see while without a bishop.
Vacant Dioceses:
Diocese of New Ulm (Minnesota) Vacant August 6, 2020
Ruthenian Eparchy of Holy Protection of Mary of Phoenix (Arizona) Vacant 08/23/2021
Diocese of Houma-Thibodaux (Louisiana) Vacant 2/8/2022
Dioceses with a Bishop-Elect
Diocese of St. Augustine (Florida), Bishop-Elect Erik T Pohlmeier, priest of the Diocese of Little Rock (Arkansas), to be ordained and Installed on July 22 at St. Joseph's Catholic Church.
Diocese of Winona-Rochester (Minnesota), Bishop-Elect Robert E. Barron, Auxiliary Bishop of the Archdiocese of Los Angeles, to be installed July 29th.
Diocese of Phoenix (Arizona), Bishop-Elect John P. Dolan, Auxiliary Bishop of the Diocese of San Diego (California). To be installed in August.

Dioceses with a Coadjutor BishopDioceses with an Auxiliary Bishop-elect:
Diocese of Cleveland (Ohio), Auxiliary Bishop-Elect Michael G. Woost, priest of the Diocese of Cleveland (Ohio), and professor at St. Mary's Seminary, to be ordained August 4th at the Cathedral of St. John the Evangelist.
Archdiocese of Detroit (Michigan), Auxiliary Bishop-Designate Archbishop Paul F. Russell, Apostolic Nuncio Emeritus to Turkey, will be received as Auxiliary of Detroit during a Mass of Welcome and Inauguration of Ministry at the Cathedral of the Most Blessed Sacrament on July 7, 2022.
U.S. Superannuated Dioceses (note: date marks Bishop's 75th birthday)
Archdiocese of Boston (Cardinal Sean O'Malley, O.F.M. Cap., 06/29/2019).
Greek-Melkite Eparchy of Newton (Our Lady of the Annunciation in Boston) (Massachusetts) (Bishop Nicholas J. Samra, 08/15/2019).
Diocese of St. Cloud (Minnesota) (Bishop Donald J. Kettler, 11/26/2019).
Diocese of Camden (New Jersey) (Bishop Dennis J. Sullivan, 03/17/2020).
Syro-Malabar Eparchy of Saint Thomas the Apostle of Chicago (Illinois) (Bishop Jacob Angadiath, 75, 09/26/2020)
Diocese of Kalamazoo (Michigan) (Bishop Paul J. Bradley, 10/18/2020)
Diocese of Portland (Maine) (Bishop Robert P. Deeley, 06/18/2021).
Diocese of Rochester (New York) (Bishop Salvatore R. Matano, September 15, 2021).
Diocese of Wheeling-Charleston (West Virginia) (Bishop Mark E. Brennan, 02/06/2022)
Diocese of Sioux City (Iowa) (Bishop Ralph W. Nickless, 05/28/2022)
U.S. Dioceses that will superannuate this year (note: date marks when Bishop will turn 75):
Diocese of Baker (Oregon) (Bishop Liam S. Cary, 08/21/2022)
Diocese of Harrisburg (Pennsylvania) (Bishop Ronald W. Gainer, 08/24/2022)
Archdiocese of Washington (D.C.) (Cardinal Wilton D. Gregory, 12/07/2022)