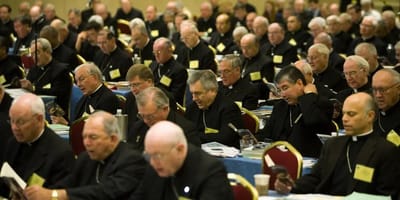 Dear Shepherd of all shepherds,
as you watch over your flock on earth,
and all who lead us,
I pray that you watch over my shepherd, my bishop.
Bless him with a sense of mission,
deepen his sense of charity,
strengthen his sense of duty,
and through it all, help him lead with gentle hands
and a loving heart.
Be his companion during times of loneliness,
and his counsel during times of decision.
Keep his heart joyful that we may rejoice with him
and follow where he leads.
Help me to serve Bishop N. with loyalty and obedience,
with fraternity and dedication,
committed to his great work in my diocese
and your great work on earth - winning more souls to your
son,
and more souls committed to your loving Church.
Amen
Prayer from
A Deacon Prays
by Deacon Greg Kandra